The New Forest Training Area Map, 1943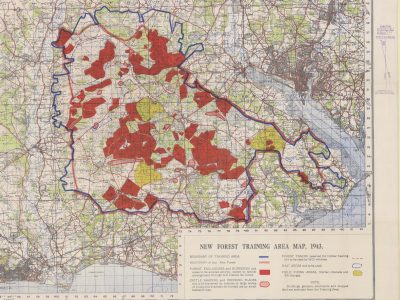 The New Forest Training Area Map, 1943 held in the New Forest Heritage Centre's Special Collections is an amazing resource helping to pick apart some of the Second World War activity in the New Forest.
The map created by the Geographical Section, General Staff No.3907 and published at the War Office is produced to show specific shaded training areas within the New Forest alongside protected areas for local residents and the commoners animals.
The Key at the bottom of the map reveals that the map includes
Blue (Line) – Boundary of Training Area, note that this encloses more area than the New Forest Boundary
Red (line) – Boundary of the New Forest
Block Red (area) – Forest Enclosures and Nurseries as areas to be avoided entirely, except by special arrangement through A.D. Claims, Sn. Comd.
Diagonal red lines (area) – Cattle Shading and Drinking Places as areas not to be traversed by vehicles or large bodies of troops, but available for limited use by small bodies of men.
Dashed Red (Line) – Forest tracks reserved for timber hauling and not to be used by War Department vehicles
Blue dot dash (line) – Encloses RAF areas not to be used
Block Yellow (area) – Field Firing Areas, Mortar, Grenade and Small Arms Ranges
The map also notes that Buildings, Gardens, Allotments and cropped lands are excluded from the Training Area.
Points of Interest for the large firing areas:
Points of Interest for the small firing areas:
Points of Interest for the RAF areas:
Search terms:
New Forest Training Area Map, 1943
Training Area
WWII Training Areas
Date: 1943