When I was a young boy my mother brought me to Lyndhurst and showed me the house where she had lived as a young girl. All I could remember was that it was white, imposing and set in its own grounds. Fifty years later I moved to Brockenhurst and became interested in seeing if I could find the house.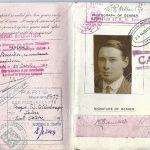 My grandfather worked in coal logisitics, organising its delivery to strategic locations, mainly sea ports for the Royal Navy and merchant shipping. I knew that he never stayed long in any one place because his work took him all over Europe, and I knew also that he had never in fact owned a property.
I have been a volunteer in the Christopher Tower Reference Library in the New Forest Heritage Centre in Lyndhurst for six years now, and in quiet moments tried in vain to find any documentation which might point to where the family had lived.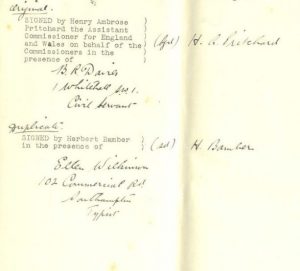 One of my recent jobs in the library has been preparing the digitised copies of the Forestry Commission records of leases (Lease Books) into bundles for entry into our Adlib database and for publication on the New Forest Knowledge website. I had just finished a bundle when I looked at the last page of a lease and there was my grandfather's name and a signature.
Was it my grandfather? What was the probability that there were two people called Herbert Bamber leasing property in Lyndhurst at the same time?
There are strong similarities between the passport signature and that of the lease, but the capital Bs look quite different. Equally there is a long gap in time between the signatures. Page two of the lease gives Herbert's address as No 1 Canute Road Southampton. Our library copy of Kelly's Directory for Hampshire 1931 shows that 1 Canute Road was occupied by Clarke, Stephenson & Associated Co. Ltd, coal factors.
Now what is the probability that there were two people called Herbert Bamber, leasing property in Lyndhurst at the same time and both working in the coal industry? It begins to seem more like a certainty. We shall know for sure only in 2031 when we get access to the 1931 census.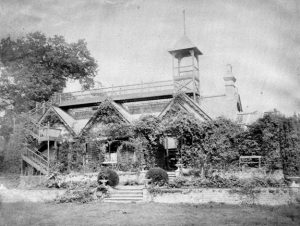 So where is this property? It turns out to be Crown Lodge, now occupied by the New Forest Nondescripts Club, on Church Lane in Lyndhurst. It was originally called The Bird's Nest for reasons which the photo make clear.
Further details about the building's history can be found on the New Forest Knowledge website at:
https://nfknowledge.org/record/nfp-15/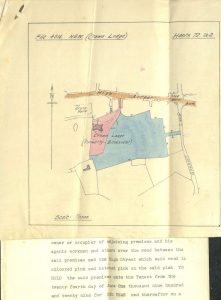 The lease also shows that the land attached to the house comprises not just the basic property coloured red, but most of what is now the main Lyndhurst carpark coloured blue. Ironically, and somewhat irritatingly, three times while volunteering in the Library I have been fined for breaching parking regulations on land that was leased to my grandfather.