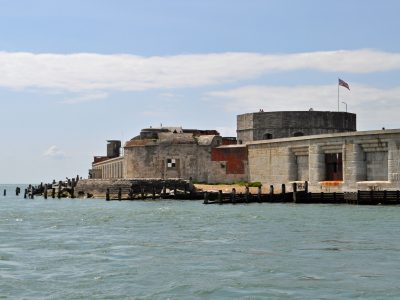 Hurst Castle is managed by Hurst Marine on behalf of English Heritage and is situated at the seaward end of the shingle spit that extends 1.5 miles from Milford-On-Sea. The end of the spit is only three-quarters of a mile from the Isle of Wight.
Hurst Castle was the perfect location to defend the western approach to the Solent. The castle was built by Henry VIII in 1544 as one of a chain of coastal fortresses.
The castle was modernised during the Napoleonic wars and again in the 1870's when the enormous casemates (armoured wings) were constructed.
The castle formed part of a network of defences around the entrance to the Solent during the First World War, and was re-armed again as a strategic location during the Second World War. Second World War activity at the castle saw the construction of a NAAFI space and the Garrison Theatre, within some of the Napoleonic casemates.
The military decommissioned the fort in 1956 and it passed into the control of the Ministry of Works, the predecessor of English Heritage.
This article is to help try and pull all the various articles about Hurst across New Forest Knowledge together for easy access
Hurst Articles on New Forest Knowledge
Tudor Hurst
Napoleonic Hurst
Pre WWII Hurst
WWII Hurst
Modern Hurst
Date: 1544