Map overlays temporary loss: more info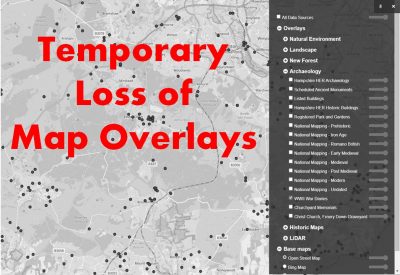 Many users of the site will be familiar with our map and map overlays which provide a range of heritage and natural environment information.
Owing to changes in how map overlays are provided to the website, from mid 2023 users will temporarily lose access to most of this service.
We apologise for the inconvenience.
Below is a full list of the overlays that will be affected. We are working on a solution to restore the overlays and hope to have good news soon. We will let you know through this page once the overlays are working again.
NFK Admin Team
Natural Environment

Local Nature Reserves
National Nature Reserves
Sites of Special Scientific Interest
Special Protection Areas
Special Areas of Conservation
RAMSAR Sites

Landscape

Landscape Character Areas
Ancient Woodland
Landscape Types
River Catchment

New Forest

Open Domesday
Parishes
Conservation Areas
NFNPA boundary
Tranquil areas

Archaeology

Hampshire HER Archaeology
Scheduled Ancient Monuments
Listed Buildings
Hampshire HER Historic Buildings
Registered Park and Gardens
National Mapping – Prehistoric
National Mapping – Iron Age
National Mapping – Romano British
National Mapping – Early Medieval
National Mapping – Medieval
National Mapping – Post Medieval
National Mapping – Modern
National Mapping – Undated
WWII War Diaries
Churchyard Memorials
Christ Church, Emery Down Graveyard

LiDAR