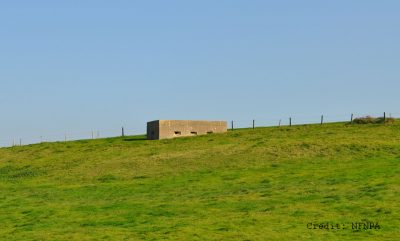 A pillbox (variant) is visible in a farmers field behind Barton Cliff. This is not a Type 23 as this requires an integral open annex and mounting for a light machine gun.
This pill box would have been linked with additional ones along the coast, which have now disappeared and ones further inland such as Braxton and Ashley.
The pill box is visible from a public footpath.
PLEASE NOTE THIS PILLBOX IS ON PRIVATE LAND. THERE IS NO ACCESS WITHOUT LANDOWNERS PERMISSION
If you have anymore information about this pillbox please add your comments below or contact us on archaeology@newforestnpa.gov.uk
If you have anymore information about this or other local pillboxes please add your comments below or contact us on archaeology@newforestnpa.gov.uk
Further New Forest Pillboxes
Hinton
Breamore
Date: 1940