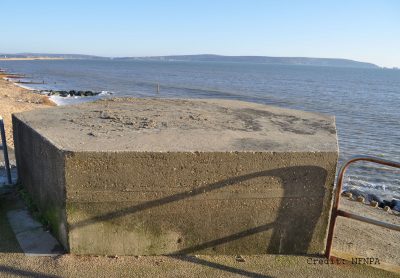 A Type 22 hexagonal shaped pill box has been built on the beach front at Milford-on-Sea it can be seen on the promenade in front of the White House.
Pillbox Key Facts
Official designation: fw3/22
Shape: hexagonal
Walls are around 12″- 24″  thick
Internal measurement between opposite walls is around 10ft
Usually (but not always) rifle loops in five of the six walls and an entrance in the sixth, at Milford on Sea all have been filled.
A small L shaped blast wall can some times be found protecting entrance.
If you have anymore information about this pillbox please add your comments below or contact us on archaeology@newforestnpa.gov.uk
If you have anymore information about this or other local pillboxes please add your comments below or contact us on archaeology@newforestnpa.gov.uk
Further New Forest Pillboxes
Hinton
Breamore
Date: 1940