Post war at Ashley Walk Bombing Range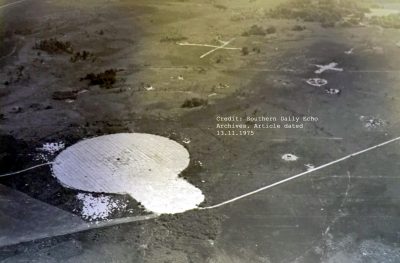 Alongside the numerous bomb craters various elements of the old Ashley Walk Bombing Range still survive today and echoes of past activity can be seen when walking in the area.
The above photo was taken in 1975. It shows the concrete circle that formed the centre of a large 'Bulls Eye' target. Around this point were multiple circles of broken earthen banks forming the overall 'Bulls Eye' target.  This feature is still marked on modern OS maps of the area. The addition to the circle of the 'apron' was for Wall Target No.2.
The concrete was removed in 1991, though you can still obtain a sense of scale on the ground as it survives now as a cropmark. The concentric circles that that formed this target are still visible as ditched lines with regular mounds.
A large amount of other targets, marks and letters survive either as cropmarks or as chalk marks.
Read more about the other sites that can still be seen at Ashley Walk:
On this site the Ashley Range Overview page has links to pages about the other targets on the range.
If you have any photos or information about the testing at Ashley please share them with us or add comments below
Date: 1947