Hilda Hand – Nurse and Photographer at Lady Hardinge Hospital
A unique collection of photos from The Lady Hardinge Hospital for Wounded Indian Soldiers
Hilda Beatrice Hand was born 16 November 1876 in Acton, Middlesex. She completed her nurses' training at St Olaves' Infirmary from November 1897 until July 1901. She nursed throughout the war, from 1915 at the Lady Hardinge Hospital for Wounded Indian Soldiers and later becoming a Sister with the Queen Alexandra's Imperial Military Nursing Reserve (QAIMNSR). She had already fifteen years of nursing practice both in the UK and in India. Her first official military posting was to the No. 8 General Hospital, Rouen, France, in 1917.
Hilda had a camera and though photography was becoming increasingly widespread, a female photographer with her own camera would have been uncommon. It is via her photographs that we get to glimpse back in time to the start of this First World War hospital in a quiet village in the middle of the New Forest.
Lady Hardinge Hospital
January 1915 and Hilda had started work at the Lady Hardinge Hospital for Wounded Indian Soldiers in Brockenhurst. This was an enormous hospital complex in the New Forest, set over three houses, and several newly erected tin huts and tents. Over the course of nearly two years it would nurse over 3,000 Indian soldiers.
The wounded arrived from the battlefields and clearing stations via the rail connection from Southampton and its port. On one occasion Hilda took photos of the arriving soldiers, some of whom are on stretchers.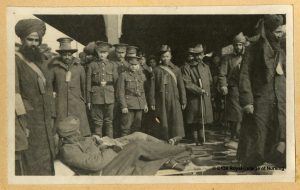 You can see here three different uniforms – the British, Indian and Gurkha, distinguishable by their different headgear. The Indian and Gurkha soldiers appear to have labels around their necks, perhaps with their name, regiment, injury or possibly their destination on them. You can see many of them have walking sticks or their arms in slings.
Once they arrived at Lady Hardinge's Hospital they would have been housed in the tin huts that are so present throughout the photos. Hilda documents life here through a series of candid and posed shots. Many of the photos are outside, suggesting outdoor activity was a part of recovery. In various shots you can see the soldiers playing draughts, praying and what looks like flower arranging – possibly with flowers for the wards. Hilda's photos show that there were not solely British nurses working in Lady Hardinge's, but Indian nurses too. An extract from a poem in her notebook could allude to the difference in skin tone of the nurses.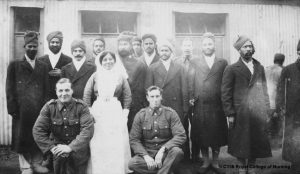 'U. for the uniform which we all wear, it suits most be she dark maid or fair'
Food was a big part of the daily routine in Brockenhurst. Officials were careful to observe the different religious practices of the soldiers. They utilised coloured disks on the end of every bed to mark the different dietary needs. You can see one, although its colour is indistinguishable, next to the orderly's hand in image [13-2a]. Another photo shows the 'cooks Hindu Mohammedan', implying there was a separate staff and food preparation for the different requirements.
In 1916 Lady Hardinge's closed and the site became a hospital for New Zealand soldiers. With the Indian sepoys gone, Hilda's skills in Hindustani were no longer required and in June 1916 Hilda started at King George Hospital, London. This had opened in the previous year, reportedly the largest military hospital in Britain.
Permissions to use reproductions of material from the Royal College of Nursing Archives, The Papers of Hilda Hand, C136.
Focuses on the First World War stories of nine nurses and one VAD (Voluntary Aid Detachment). Each one of them left behind a scrapbook detailing their experiences in the Great War. With Heritage Lottery Funding, the Royal College of Nursing (RCN) has been able to digitise these documents and research the remarkable women who made them, tracing their wartime stories.
Date: 1914