Tree Graffiti in New Copse Inclosure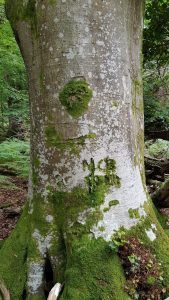 The New Forest boasts hundreds of arborglyphs, otherwise known as tree writing, in which words, numbers and pictures are carved into the bark of trees. It is believed that many of the markings were carved by men who conscripted to fight in the Second World War.
Often just using a name, initials or a date, you can trace the military history of the men that fought here. This gives us an indication on where they were based for the D-Day landings. Additionally, even the family history of the soldiers involved can be uncovered using the markings to re-create fascinating wartime stories.
The 25 pictures used to create the 3D model of a tree in New Copse Inclosure clearly portrays a number of dates both early (1878) and fairly recent. Due to the fact that it is a beech tree, the light coloured bark increases the visibility and so there are also some obvious letters engraved.
Some carvings are culturally or historically significant; other carvings are forms of bark defacement or recent graffiti. If you happen to see any tree in the forest which appears to have some engraved inscriptions in the bark do let us know.