The New Forest: its History and Scenery by John Wise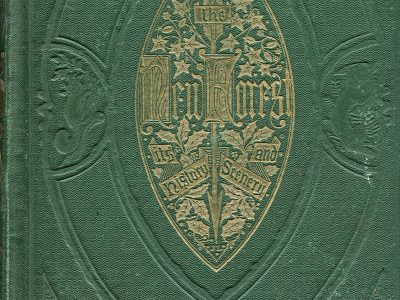 Review by Peter Roberts
John Wise's 'The New Forest: its History and Scenery' was first published in 1863. It ran to five editions with a number of variations in the 19th century together with a reprint in the 20th. It remains a standard work because he captured an understanding of the area by his own observations and enquiries together with enlisting help from many local specialists.
During the previous year he had toured the Forest with the young Walter Crane who provided 63 illustrations; neither were New Forest men. Something of a literary Gypsy, Wise was born to a well-to-do Devon family but lost his parents early. He was educated at Grantham School and Oxford University but left without a degree to further his passion for travel, ornithology and writing. He became deeply interested in many aspects of the natural world and developed a love for words. He contributed to the Westminster Review and Cornhill magazines before publishing a slim volume of poems entitled Robin Hood.
In The New Forest he provided an overview of the history and archaeology together with a guide to the villages and 'wild' places within the New Forest. His knowledge and evident love of the area for its own sake helped bring about a better understanding of how everybody could benefit from it.
"But in its wild scenery lies its greatest charm. From every hill-top gleam the blue waters of the English Channel… Nowhere, in extent at least, spread such stretches of heath and moor, golden in the spring with the blaze of ferns, and in the autumn purple with heather, and bronzed with the fading fern. Nowhere in England rise such oak-woods, their boughs rimed with the frostwork of lichens, and dark beech-groves with their floor of red brown leaves, on which the branches weave their own creative warp and woof of light and shade."
In 1881 Wise came into some money by the death of his uncle Henry Ellison. It is probably not a co-incidence that a fourth edition of his by now famous work appeared. The Artist's Edition, which incorporated the original 63 Crane illustrations, was further enhanced with 12 etchings by artist and archaeologist Heywood Sumner. The books were finely bound in birch and produced in a numbered, limited edition of 350. A further 50 were also produced in a slightly larger format and again bound in birch; both were published in 1883.
Further travels included living in Yorkshire and Edwinstow on the edge of Sherwood Forest before he returned to the New Forest in the autumn of 1889. He suffered illness at his boarding house, South View in Gosport Road, Lyndhurst and died there on 1st April 1890. He is buried close to the gate of the cemetery beyond Bolton's Bench in the New Forest he came to love.
In the preface to the Artist's Edition of August, 1882 he concluded:
"We may indeed rejoice that Epping Forest has lately been bought as a park for the people of London, but we should rejoice still more that the New Forest requires not to be purchased… but that it remains, not indeed now the hunting-ground of a king, but the park of the nation."
Date: 1863