The crash that saved my life!
Paul Simmons had a collection of photographs from his Grandfather's (Arthur George Simmons) time in the fledgling British Air Force during the First World War. Paul was keen to find a new permanent home for this collection. After considering donating the collection to the IWM or The National Archive or even selling it at auction Paul's family did a little online searching to try and find a more suitable long term home for the collection.
After searching they discovered one of our articles about the WWI airbase and flying school at East Boldre, then called RAF Beaulieu where Arthur was stationed and training.
Paul got in touch with the New Forest Remembers team to talk about donating the collection. On receiving Paul's very kind offer the NFR team got in touch with the New Forest Heritage Centre as it was felt that they would be the best long term home for this wonderful collection.
All the photographs have now been digitized and are available to view via this online archive. And we can now bring you Arthur's story:
Arthur George Simmons was born in 1898, aged 19 'Simmons A. (4975)' joined the Royal Flying Corps (RFC) in 1917. He was soon posted to RFC (later RAF) Beaulieu, a Training Airfield, at East Boldre, Hampshire. During the first six months of 1918 the flying training for the British pilots at RAF Beaulieu was carried out by three training squadrons, No. 1, 73 and later 29.
The majority of the initial training was conducted using Avro 504 aircraft, with pilots then progressing to fly the more advanced Sopwith Camel fighter. The airspace over East Boldre would have been busy as the American 93rd Aero squadron was also being trained by the RAF at Beaulieu during early 1918.
On 1 April 1918 the Royal Flying Corps (RFC) and the Royal Naval Air Service (RNAS) amalgamated to form a new service the Royal Air Force (RAF).
The Collection:
The Arthur Simmons collection comprises of two photograph album, loose paperwork (relating to his training), his book 'Technical Notes – Royal Flying Corps', his Aviator's Certificate and his two medals. The two photo albums date from 1917 to around 1920 and hold some personal family photos as well as images for such places as East Boldre (RAF Beaulieu) airfield, Lymington, the No.1 New Zealand Hospital in Brockenhurst, the aerodrome at West Blatchington and a number of crashed aircraft to name just a few.
That crash
Arthur had already survived an earlier crash. But on 13 April 1918 while flying an Avro 504A (A8600) Arthur crashed for the second time. Following this severe crash landing at East Boldre he was discharged. Paul (Arthur's grandson) recalls his grandfather commenting "That crash saved my life!"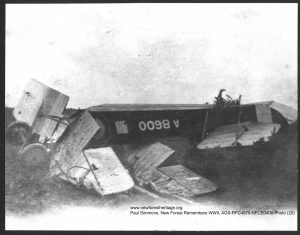 The report from the official enquiry of Arthur's last crash.
Avro 504A, A8600, 13.04.18, Stalled on turn and spun. A/Sgt: A.G. Simmons inj.
Court of Enquiry 22/03/1918 A/SGT: A.G. Simmons.
The court, having viewed the wreckage and examined the evidence, are of the opinion the Sgt. Simmons the pilot of Avro N0.8600. lost flying speed whilst turning to the left & that owing to lack of height, he was unable to extricate his machine from the resultant spin.
RAF Museum Archives – Casualty Card: RAFM 285302
| | |
| --- | --- |
| RAFM 285302 | Casualty Card (RAF Museum Archives) |
| Full name | Simmons, A.G. |
| ID | OC0241910 |
| Object | CC2_21826 |
| Collection | Archives |
| Classification | Casualty Record Series |
| Series | Casualty Card Type – Incident |
| Initials | A.G. |
| First names | |
| Surname | Simmons |
| Service no | |
| Rank | Ac Sgt |
| Organisation | Royal Air Force |
| Prisoner of war | No |
| Casualty date | April 13th 1918 |
| Accident | |
| Result of accident | Injured |
| Remarks | |
| Terms of enlistment | |
| Awards | |
| Attached from | |
| Place | UK |
| Death details | |
| Aircraft serial | A8600 |
| Engine type | Gnome Monosoupape |
| Manufacturer | |
| War Department | |
Arthur's aircraft was an Avro 504A, serial No. A8600. It had a Gnome Monosoupape rotary engine. The aircraft was made by A.V. Roe & Co of Manchester during contract 87/A/1213 dated: 24 November 1916
Avro 504A was the first modified variant of the Avro 504 with smaller ailerons and broader struts and a Gnome Monosoupape 7 Type A seven-cylinder rotary engine offering 80 hp (60 kW) of power.
The collection is now held and looked after at the: Christopher Tower Reference Library
New Forest Heritage Centre
NFC Ref: E0409
More photographs from this collection will be added over the coming weeks.
You can see them by following this link: Simmons Search
Since the Simmons collection went live, we've been contacted by descendants of those included in the photos with some of their stories. Here is one of those relating to the photos of the crashed Bi-plane E.2602, 9 June 1919: James Gamble in Arthur Simmons' Images.
Date: 1917