A New Forest Christmas Tree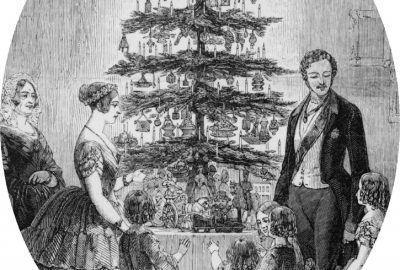 The New Forest is managed as a working forest by the Forestry Commission, this includes the commercial growing and harvesting of trees. Most of this happens away from public eye, unless you happen to stumble across works happening in one of the inclosures on your walk or bike ride. However one of the times you get to personally appreciate this activity and even take a part of the New Forest home with you is at Christmas time. Picking out and decorating your very own tree can be one of the highlights of the festive season.
The tradition of having a decorated tree in your home is a rather recent adaptation for Christmas; whilst evergreen fir trees have been used to celebrate winter festivals for thousands of years, the Christmas tree in its current guise has only been popular in the UK since the nineteenth century.
The first publicly decorated Christmas tree on record was in 1510 in Riga, Latvia. The tree was put up by men wearing black hats who proceeded to first dance around the tree, and then set it on fire.
The tradition of decorated Christmas trees spread from Germany to the UK thanks to Queen Victoria and Prince Albert. German born Albert had often celebrated Christmas with a tree as a youngster, and was keen to share this childhood treat with his new wife. In 1848 the Illustrated London News published a drawing of the royal couple with a beautifully decorated tree, and within a few years the sight was common throughout homes in Britain.
Since then the popularity of Christmas trees has reached dizzying heights. The UK goes through around eight million real trees annually according to the Forestry Commission.
British Pathe has two videos dealing with the annual New Forest Christmas tree harvest.
Land Army Girls cutting Christmas Trees in 1948
Xmas Tree Harvest in 1966
Date: 1947