Memories of assistant photographer at Millersford Range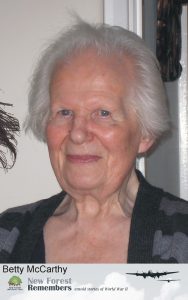 An oral history interview with Betty McCarthy. Interview Date 14/06/2013
Betty McCarthy was born in 1926. At the start of the war Betty was 13 and still at school. After school she became a Mother's Help, looking after children. At 16 Betty took a job as an assistant photographer at an experimental research station at Millersford where they tested explosives.
The Group photo was donated by Vera Storr who has also been interviewed, link below to her page.
Interview Quick Clips
All material is © 2017 New Forest National Park Authority.
Full transcription of interview recordings.
Interviewed by: Sue Jackson
Transcription by: Krysia Truscoe
Audio Editor: Cosmic Carrot
You can find more memories of Millersford Experimental Work Below
Date: 1943