Memories of an artillery man and motorcyclist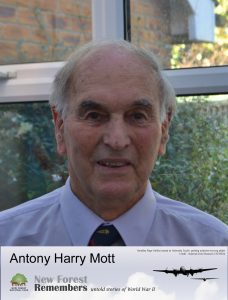 An oral history interview with Anthony Harry Mott.  Interview Date 04/11/13
Born 1925. Spray painted Horsa gliders at Airspeed Christchurch, where he flew in a test flight in an Airspeed Oxford. His father's butcher's shop in Christchurch was hit by incendiary bombs.  Joined Royal Artillery and rode motorcycles.  Posted to France and Belgium.  After the War, returned to Woolwich Barracks and was posted to Burma, where he joined the boxing team, and finally to Rangoon.  When he left the Army he went into teaching at Bransgore, Lymington, Hythe and on the Isle of Wight.
You can find out more about the work at Airspeed factory at Christchurch by clicking on the text.
Interview Quick Clips
All material is ©2016 New Forest National Park Authority.
Full transcription of interview recordings.
Download transcription (PDF)
Interviewed by: Nick Osman
Transcription by: Sue Jackson
Audio Editor: Cosmic Carrot
Date: 1939