Memories of Air Sea Rescue course and Bomber Command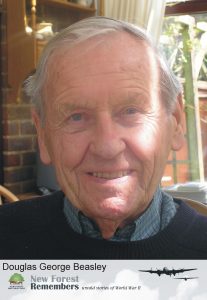 An oral history interview with Douglas George Beasley.  Interview Date 16/04/13
Doug was a flight engineer in Halifax bombers stationed in North Yorkshire. Though he didn't visit the Forest during the war years, in 1946 he came to the New Forest to do an Air Sea Rescue course at Calshot.  Doug recollects becoming an instructor after the war, his training at Calshot and some of the sights of post war Britain.
You can find out more about RAF Calshot and Eaglehurst here: RAF Calshot & Eaglehurst Overview
Interview Quick Clips:
All material is2014 © New Forest National Park Authority.
Full transcription of interview recordings:
Download transcription (PDF)
Interviewed by: David Larder
Transcription by: Leander Johnson
Editor: Gareth Owen
Date: 1946