Memories of a young teenager during the first years of the war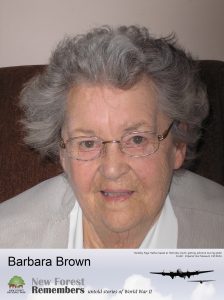 An oral history interview with Mrs Barbara Brown.  Interview Date 13/07/2014
Barbara Brown was a young teenager during the first years of the war and was still at school. She remembers the air raids and seeing a dogfight and plane shot down. A bomb also fell close to their home. She goes on to relate some of the things that she remembers about life during those war years.
Interview Quick Clips
All material is © 2015 New Forest National Park Authority.
Full transcription of interview recordings.
Download transcription (PDF)
Interviewed by: Sue Jackson
Transcription by: John Martin
Audio Editor: Gareth Owen
Date: 1943