How the School Children of Redlynch supported the War Effort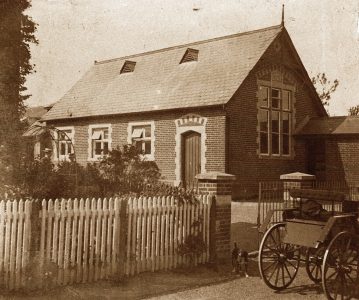 In 1914 there were three established Elementary schools in the parish, one in Redlynch, one in Morgan's Vale, and one in Nomansland.  All three were Voluntary Aided Church Schools.
The school log books for Redlynch School show that the children were encouraged to collect money for the Overseas Club, a national organisation whose patron was King George V, and which provided basic goods such as tobacco and socks for the troops.  From 1915 to 1917 various amounts of money (17/-, 14/- and 19/3d) were raised.  On 24 May 1916 during the Empire Day celebrations, Mrs Eyre-Matcham (of Newhouse) visited the school and presented certificates to those who had contributed to the fund.
Pupils also raised funds for the British Red Cross Society in 1915, by selling flags, issued along with the collecting boxes by Mrs Eyre-Matcham.  The school managers granted an afternoon holiday for the task and £4.7s.0d was collected.
Apart from fund-raising, the children were also encouraged to knit mufflers and mittens for the sailors.
In October 1918 when the Ministry of Food issued an urgent appeal for more blackberries to give to soldiers in hospital, the pupils were granted several half-day holidays for blackberry picking.
The logbooks for Nomansland and Hamptworth School reveal that in addition to gathering blackberries the children were granted half-day holidays to gather acorns for the War Office.  Acorn collecting was a regular occurrence in the autumn when New Forest inhabitants had the right to 'pannage'.  During the war this activity was especially important as the acorns provided a substitute for timber, from which acetone, could be obtained and used in the production of ammunition.
Date: 1914