Home Comforts for Fighting Men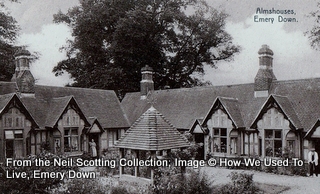 The whole Empire was involved in the war effort.  Requests for war-time comforts came directly from fighting units or were gathered by individuals or charities set up for the purpose.  The list of items needed, an example of which is shown below, gives distressing evidence of the human cost of the struggle – and of a country very different from the one in which we live:-
Balaclavas

Bandages

Bedjackets

Bedsocks

Cap flaps

Caps

Cardigans

Casualty bags

Cholera belts

Gloves

Handkerchiefs

Jug covers

Kit bags

Knee caps

Lavender bags

Mittens

Nightshirts

Operation shirts

Pants

Pillowcases

Pillows

Pyjama legs

Pyjamas

Scarves

Shirts

Shrouds

Slippers

Socks

Stump socks

Swabs

Towels

Vests
The above list was compiled from a Hampshire organisation's ledger, Hampshire Record Office, W/C2/3/2.
The following extracts are from the New Forest Magazine, in the archive held at the Christopher Tower New Forest Reference Library at the New Forest Heritage Centre in Lyndhurst:
"Our [Emery Down] School Children have made 51 pairs of mittens and 18 shirts which were sent to our soldiers at the front, and collected amongst themselves 11s. 7d. for the Daily Telegraph Belgian Fund.  25 articles made at the Vicarage have been forwarded to the soldiers at the Front".  February 1915.
"Lyndhurst Work Party.  This Work Party began on August 10th, and was wound up on February 25th.  A sum of £154 10s. 8d. has been contributed by over 280 subscribers.  It has sent 692 garments (including pairs of socks) to the Hospital Ships at Netley, and has allotted 282 garments (including socks) to regulars going to the Front, and to the recruits of Lord Kitchener's Army …".  April 1915.
"Mrs Ballard (Emery Down) has sent Miss Chawner* one hundred pairs of beautifully knitted socks and forty-nine pairs of mittens since the beginning of the war.  This is certainly a record for the district when it is remembered that the knitter is over 80 years of age.  Mrs Ballard intends to continue her good work 'for the duration of the war'."  March 1916  [*Miss Chawner lived at Forest Bank, Lyndhurst.]
"The Lyndhurst and Emery Down band of knitters still carry on faithfully.  This year, in addition to mufflers for the Navy, we have sent fifty pairs of socks to Col. Boteler, DSO, RA, for his Ammunition Column, fifty pairs to the Hampshire Depot, twenty five pairs to the 'Westminster Gazette Comforts for Fighting Men' and twenty five pairs to the French Wounded Emergency Fund.  … Mrs Ballard is still one of the most regular and energetic workers and must soon have another 100 pairs to her credit."  February 1918
"Mrs Ballard, Emery Down, has now knitted 200 pairs of socks for Soldiers and Sailors.  Considering her advanced age this is really a great achievement and, if not altogether a record, must approach very nearly to one."  October 1918
Who was Mrs. Ballard?
Born Mary Griffin – one of three children – in Chittlehampton, Devon in 1833.  Her father, James, was a cooper.  Her young brother, John, was a carpenter and lived in Devon all his life.
Mary and her elder sister, Jane, went into domestic service; by 1861 both were working in London, Mary was a Cook.  Jane married George John Lock, a Coachman, on 28 July 1862 in Willesden; Mary was one of the witnesses.
By 1871 Mary was Cook to Henry H. Slade at Northerwood House, Emery Down – John Ballard was his Butler.
John and Mary married on 3 March 1875 in Byfleet, Surrey.
In 1881 John and Mary Ballard lived at Hill House, Emery Down. John was a yeoman (or farmer) and Mary's niece, Anne Lock, was listed with them.
John, described as a 'farmer of Pikes Hill', died on 24 March 1889 aged 47; he was buried at Emery Down on 29 March 1889; his personal estate was £326 19s.
Mary Ballard returned to work and was Cook to Benjamin N.H. Jones, retired Lieutenant 6th Dragoon Guards; in 1891 he and his household were at the Crown Hotel in East Everleigh, Wiltshire.
Mary Ballard had retired and returned to Emery Down by 1901; her niece, now Annie Fleming, occupation shown to be the same as Mary's 'Retired Cook') lived with her
In 1906, Mary was accepted into the Emery Down Almshouses.  Her old age pension in 1908 was 2/- (two shillings) per week.
Mary Ballard died on 22 Jan 1919, aged 86—her great achievement was complete.  She was buried in Emery Down Churchyard.  (Her niece Annie died in 1925, aged 60, and is buried in Emery Down Churchyard, her place of abode in the burial register is shown as Emery Down.)
Date: 1916