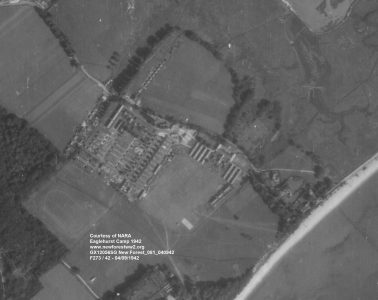 A collection of high resolution Luftwaffe aerial photographs have come to light stored at the United States National Archive (NARA). Taken between 1940 and 1943 they shed new detail to some of the areas in and around the New Forest. The "GX" number is the NARA reference with the "F" number being the original German sortie reference.
These cropped sections of [GX 12056 SG/081] show RAF Calshot and the Eaglehurst Camp, first built in 1917.
Eaglehurst Camp was first built (1917) during the First World War as an ancillary site of RNAS Calshot, built to accommodate the ground staff and sea plane aircraft crews based there. The site was modified in World War II with the addition of defensive trenches and camouflage on the building's roofs. The camp was connected to RAF Calshot by a light railway (also built in World War I) and by 1940, the camp accommodated 500 trainee airmen.
Links to other articles about this site:
Date: 1917