Memories of a Brockenhurst student then staff at British Powerboat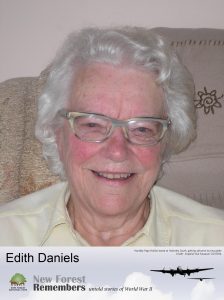 An oral history interview with Mrs Edith Daniels.  Interview Date 13/07/2014
Edith Daniels was born in London, but moved down to Holbury in 1937, followed by the whole family in 1938. She was a young teenager at the beginning of the war and by then attending Brockenhurst School during the day. However, she recalls the bombing raids in the area during the night. She left school at sixteen and went to work at British Powerboat. She describes her work experiences and attending dances where they met many of the troops stationed in the area.
Interview Quick Clips
All material is ©2015 New Forest National Park Authority.
Full transcription of interview recordings.
Download transcription (PDF)
Interviewed by: Sue Jackson
Transcription by: John Martin
Checked by: Gareth Owen
Audio Editor: Gareth Owen
Key Words:
Holbury, Fawley, Brockenhurst, school, bombs, Beaulieu aerodrome, bombers, being bombed, dances, troops, AGWI club, troop locations, Exbury, British Powerboat, Marchwood Park, motor torpedo boats (MTB), British Airways, flying boats, tanks, Holbury, Hilltop, Hythe, traffic diversion, D-Day, American, Canadian, Polish, incendiary bombs, working at Powerboat, air raids, Supermarine, night warden, shrapnel, Hardley, artillery barrage, machine gunned, siren, shelter, school evacuated from Portsmouth, prisoner of war.
Date: 1944