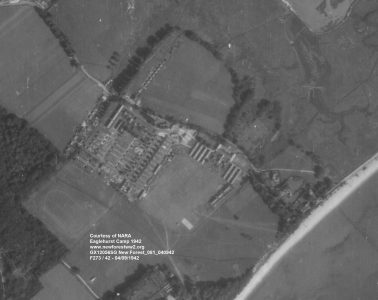 Eaglehurst was used as an officers Mess during the second world war. Eaglehurst Cottages were occupied by Wrens. There was a road across the field to Eaglehurst camp.
In the woods were slit trenches and a target wall used during both wars (recently demolished) and the site of gravel pit used to extract gravel for building RAFCALSHOT in the Great War.
Eaglehurst Camp
Eaglehurst camp was first built during World War I as an ancillary site of RNAS Calshot, built to accommodate the ground staff and aircraft crews based there. The site was modified in World War II with the addition of defensive trenches and camouflage on the building's roofs. The camp was connected to RAF Calshot by a light railway (also built in World War I) and by 1940, the camp accommodated 500 trainee airmen.
Eaglehurst camp continued to be used as part of RAF Calshot until the 1950s. In the 1960s it was briefly used as temporary accommodation for displaced persons from the island of Tristan da Cunha.
Links to other articles about this site:
Date: 1940