De Havilland Mosquito's at Holmsley South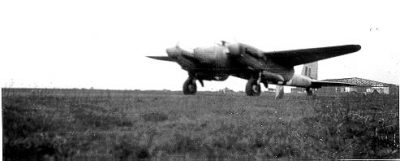 Sometimes a combination of factors leads to truly epic results.
In March 1943, No 418 Squadron, RCAF replaced its Douglas Boston light bomber/intruders with the amazing De Havilland Mosquito. They were the very first Allied squadron to receive the fast and deadly new fighter-bomber version of the Mosquito, the FB.VI.  Capable of carrying up to 2,000lbs of bombs (in later FB.VI) – one 500 pounder under each wing and two in a bomb bay – the FB.VI still retained its full fighter armament of four 20mm Hispano cannon and four .303" Browning machine guns.
No. 418 Squadron had been formed by the Royal Canadian Air Force as an 'intruder' unit, tasked with penetrating deep into Occupied Europe and creating havoc amongst the enemy's rear areas.  The Mosquito was highly suited to this, and when No 418 moved to Holmsley South in April, 1944, they instituted a campaign of 'piracy' that ranged far and wide. Preparing the forthcoming invasion area by strikes on locomotives and airfields, shooting down Luftwaffe aircraft where they thought they were safe deep in enemy territory became a speciality; this type of day raid was known as a 'Ranger'. Indeed,  when the City of Edmonton, Alberta  adopted the unit, No 418 made sure the Germans knew WHO was attacking them by dropping bricks which had copies of the 'Edmonton Journal' wrapped around them!
The Squadron's Mosquitoes – all coded with three letters beginning with 'TH' – were also adorned with 'nose art' featuring  various cartoon characters, with names such as 'Hairless Joe'. This machine was flown by the Commanding Officer, Wing Commander Russ Bannock who scored eight kills against aircraft and at least 19 against the V-1 flying bombs which were unleashed against London and the South East shortly after D-Day.  No. 418 were tasked with defending London against the V-1 menace at night, due to the speed of the Mosquito.
One squadron member stands out, in particular. Lieutenant James Forrest 'Lou' Luma was an American who had trained in night-fighting, but who had been loaned to No 418 as the USAAF had no night-fighting squadrons at that time. Crewed with a Canadian navigator, Flying Officer C. Finlayson, they formed a deadly pair ranging far and wide. Indeed, 'Lou ' Luma once shot down a German aircraft hard against the Spanish/French border. He also recovered back to base on one engine, a distance of 600 miles. Lt. Luma is credited with five kills in the air and many more aircraft destroyed on the ground. It is hardly surprising therefore, that when he finished his tour of duty and returned to the USAAF, that his own service should have awarded him their version of the Distinguished Flying Cross, to match the one awarded him by the Royal Air Force. Oh, and Lt. Luma's aircraft was called 'Moonbeam McSwine'!
No. 418 was only at Holmsley South until July, 1944, but by the time they left, and were replaced by USAAF units, they had established a truly fearsome reputation in the air.
Related articles:
This article has been sent in by The People's Mosquito project. The People's Mosquito has a simple vision: to restore a de Havilland DH.98 Mosquito to flying condition and return it to the skies, and fundraising is being kicked-off to help that vision become a reality.
You can find out more about the various activities of Holmsley South in this overview article: Holmsley South Airfield – Overview
Date: 1944