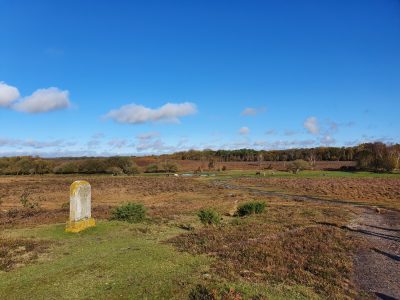 A memorial stone in the New Forest dedicated to Samuel Carter who died in a hunting accident in 1883. The memorial stone is not the most prominent or accessible, but can be found with a short walk from Kings Hat Car park.
The inscription on the memorial reads "This stone is erected to mark the spot where S Carter was killed whilst hunting with the New Forest hounds 16 Jan 1883". The far side has 'In the midst of life we are in death' inscribed on it and also sports some modern graffiti relating to the fox hunting ban.
The monument used to have wrought iron railing around it and it also provided a payment of 5 shillings to the local keeper each year to maintain it. Today you can see polished edges where ponies have used it as a scratching post and there are various added initials.
Date: 1883