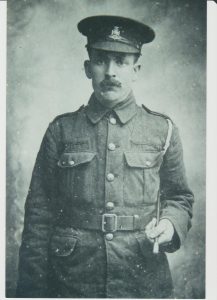 Alfred was born in Knighton-under-Lee in Worcester in 1877.  His parents were John and Amelia (Radden) from Plymouth who were married in 1869.  John was a teacher and travelled to Worcester before settling in the New Forest, firstly in Fordingbridge and finally in Redlynch.
Alfred was one if thirteen children and the 1911 census shows him as a house painter living with his parents at School House in Redlynch.  Research has been unable to discover his whereabouts in the 1901 census, but Alfred did not live with his parents.
Alfred was a volunteer and joined the 7th (Service) Battalion of the Wiltshire Regiment which was under the command of 79th Brigade under 26th Division.  The battalion spend a year in England before arriving in France in September 1915.  Alfred whose service number was 12226 arrived in France on 21 September 1915.  From here the battalion moved to Salonika in November 1915.  Alfred would spend the rest of his war fighting in this Sideshow.  He was killed, aged 39 on 27 April 1917 whilst attached to 'A' Company.  The war diary entry for 27 April shows '1 OR (Attd MG Coy) killed, 1 OR to hospital'.[1]  As there is no information to suggest that Alfred was attached to the Machine Gun Company he was in all likelihood the OR who was taken to hospital and subsequently died of his wounds.  Alfred is buried Sarigol Military Cemetery.  At the time of his death his parents were living in Percy Cottage.
---
[1] The National Archives, 7 Battalion Wiltshire Regiment war diaries, 27 April 1917,  WO 95/4876.
Date: 1914