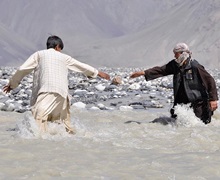 Hampshire Travels the World
Hear John Pilkington speak on The Silk Road and view archives about travellers
Hampshire Archives and Local Studies
12 March 2019, 6:30pm
The Silk Road from Georgia to Afghanistan: join Hampshire's own explorer and broadcaster John Pilkington in an exciting journey across Central Asia. In 2011 John followed a spectacular branch of the Silk Road, starting in the Caucasus and crossing the Caspian Sea to Bukhara, Khiva and Samarkand. Then, reeling from the beauty of those legendary cities, he turned south-east to explore the High Pamirs of Afghanistan – a region well-known to Marco Polo – before making a dramatic finale at the source of the Oxus in the heart of Central Asia. His stunning photos and some hair-raising stories will make this an evening not to be missed. John is one of Britain's most experienced adventurers and public speakers. For many years he was a broadcaster with the BBC World Service and Radio 4, making travel documentaries and contributing to programmes such as 'From Our Own Correspondent'. But it's for his thought-provoking, beautifully illustrated talks that people know him best. He has spoken to over 1,000 audiences in six countries, and holds the Royal Geographical Society's much-coveted Ness Award for popularising geography and the wider understanding of the world. More about him at http://www.pilk.net. An exhibition of archive material relating to Hampshire travellers and explorers will be on display, taking you across the world through journals and other items concerning George Marston, Ernest Shackleton and others. 6.30pm-9pm. Tickets will include a drinks reception and nibbles.
Cost 

£14, early bird deal £12 before 26 February

Contact 

Hampshire Record Office

Phone 

01962 846154
Click here for more information.