Trooping the Colours at the 1909 Beaulieu Camp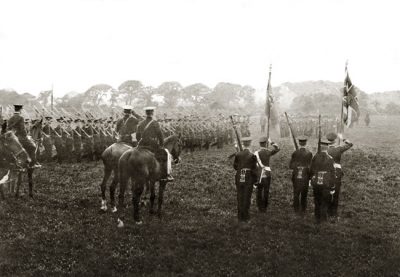 The New Forest area has seen military activity before the outbreak of WWI.
4th Bn, Royal Berkshire Regiment Trooping the Colours – Beaulieu – 3rd August 1909
This photograph shows the Battalion marching past their newly presented Colours at the Beaulieu camp on the 3rd August 1909. This camp was a regular event with many units coming together to train. Image Courtesy of Lymington.org
The Battalion with other units of the South Midland Brigade were attending a drum head service where these units were presented with their Colours following the 1908 Haldane reforms whereby the volunteers units were more closely aligned with their regular counterparts.
Can you confirm these details? Or add more info, write a comment below.
Two linked articles with pre-WWI New Forest military activity around the Beaulieu area are:
Date: 1909