New Forest Remembers WWII Oral History – Overview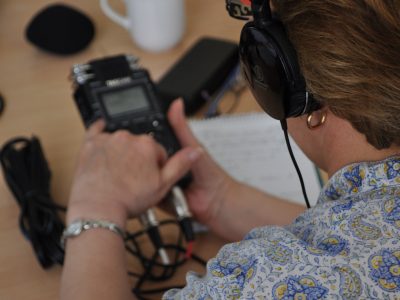 The oral history element of the project was highly successful in capturing the memories of a wide range of people who were involved in or remember the war time activities in the area. This element more than met its aims of recording interviews and collecting related material, involving local volunteers and making the results accessible to a wide audience. The substantial body of material collected provides a valuable resource that can be interpreted and used in a number of different outputs.
Via the dedicated work of the Oral History Team (volunteers) and our publicity campaign (calling for contributors) our initial target of interviewing 75 contributors was soon met and exceeded. In total 160 contributors were interviewed totalling over 91 hours on audio material.
To make the interviews accessible via this online archive short sections (Quick Clips) from the interviews have been produced. Due to the unexpectedly high number of interviews there has been a belay in editing them all but we are working to get them all uploaded as soon as possible.
Search Tips:
To help you find all the available interviews in the archive use the 'Subjects' list under the search box. Select 'Oral History' in the list. This will then only show articles tagged with Oral History.