Memories of the early days of helicopter testing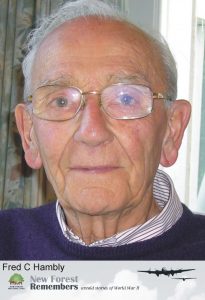 An oral history interview with Fred C Hambly. Interview Date 15/08/13
Fred joined the RAF as an apprentice during the war in 1943 aged 15 years old. After the war Fred was posted to RAF Orford Ness doing secret armament experiments and was then posted to RAF Beaulieu in 1946 to the Airborne Forces Experimental Establishment (AFEE) testing various types of parachute. Aircraft dropped men, vehicles and weapons at East Boldre and then went and collected them before doing it all again.
Based at Beaulieu Airfield for about 18 months in 1946/47 Fred also worked on early German rotary-wing aircraft (helicopters) that had been captured and brought over. In 1945 the first helicopter to cross the English Channel was the Focke-Achgelis Fa 223 on its way to RAF Beaulieu.
Fred has good recall of the layout of the airfield as well as recollections about German prisoners-of-war and generally what a cold, miserable, muddy place it was. During the bitter winter of 46-47 the heating fuel ran out and they had to chop down trees to keep warm, despite strict orders to the contrary.
Interview Quick Clips:
All material is ©2014 New Forest National Park Authority.
Full transcription of interview recordings:
Download transcription (PDF)
Interviewed by: David Larder
Transcription by: John Martin
Audio Editor: Gareth Owen
For further reading and articles on Beaulieu Airfield please visit: Beaulieu Airfield Overview
Date: 1946