Memories of HMS Mastodon, Exbury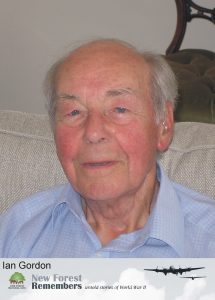 An oral history interview with Ian Gordon.  Interview Date 02/08/13
Ian Gordon was born in Chorlton-cum-Hardy, a suburb of Manchester in the 24th June 1925. He was at school when the war broke out and was evacuated for six months to Lytham St Annes before returning home. Ian left school at 16 to work for the Daily Telegraph's Manchester office as a copy boy before moving on to a local newspaper, where he also spent two years volunteering in the Home Guard. Ian was called up a week after his 18th birthday to fight in WWII and opted to join the Navy. A medical examination showed he was colour blind so roles were limited, but Ian decided to become a coder on the Navy's recommendation. Following his training, Ian was assigned to Combined Operations Unit, Group 1, Force J based at Exbury and was part of the D-Day landings on board HMS Lawford, leaving Cowes Roads for Juno Beach at 9pm on the 4th June 1944 to assist with the invasion. After HMS Lawford was sunk by the enemy two days following, Ian was later assigned to HMS Waveney at Lepe Hard and back patrolling the anchorage.
Interview Quick Clips:
All material is ©2019 New Forest National Park Authority.
Full transcription of interview recordings:
Interviewed by: Colin Gibson
Transcription by: Leander Johnson
Checked by: Gareth Owen
Audio Editor:
Cosmic Carrot
Date: 1942