Memories of growing up in Totton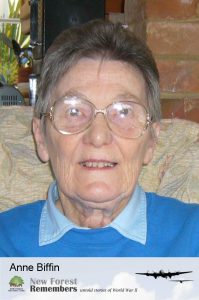 An oral history interview with Miss Anne Biffin. Interview Date 27/12/2013
Anne Biffin was born in 1934 and living in the Totton area at the outbreak of the war. Her father was a steel erector, a reserved occupation, and worked on aircraft hangars, the Mulberry Harbours and occasionally in the docks area. She recalls food rationing and what they had for Christmas and her school days, including carrying her gasmask, writing to the soldiers and the disruption caused by air raids. Anne remembers the bombing raids over Southampton and going into the air raid shelters. Also the Italian POWs working in the area. She also provides a description of the build-up to D-Day and the Americans they encountered.
Interview Quick Clips:
All material is © 2020 New Forest National Park Authority.
Full transcription of interview recordings.
Interviewed by: Dave Larder
Transcription by: John Martin
Checked by: Gareth Owen
Audio Editor: Cosmic Carrot
Date: 1938