Memories of Girl Guides, Foxlease and learning to be a gardener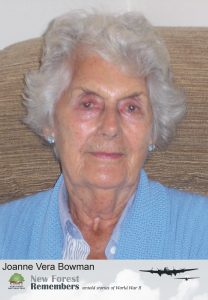 An oral history interview with Joanne Vera Bowman.  Interview Date 06/08/13
Joanne Bowman was born in 1927 and was initially living in Coventry at the start of the war. As a consequence of the bombing of that city, they first moved to London only to experience yet more bombing, and so Joanne was evacuated down to Foxlease, the Girl Guides house in Lyndhurst. She was on a one year course to learn something about gardening and remembers the Dig for Victory campaign and the enjoyable time she had at Foxlease. She describes her daily routine, the effects of rationing and the social life at the time, including what Lyndhurst was like then. She also recalls the American troops camped out in the area who threw them sweets and gum.
Interview Quick Clips:
All material is ©2017 New Forest National Park Authority.
Full transcription of interview recordings:
Download transcription (PDF)
Interviewed by: Sue Jackson
Transcription by: Krystyna Truscoe
Checked by: Gareth Owen
Audio Editor: Cosmic Carrot
Date: 1944