Memories of an unhappy evacuee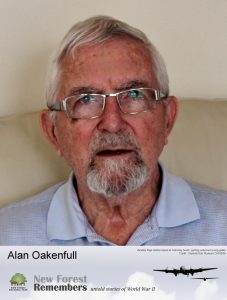 An oral history interview with Alan Oakenfull.  Interview Date 28/02/2014
Alan Oakenfull was born in London in 1932 but by 1939 the family were living in Southampton. His mother had died a few years earlier and his father was about to be drafted into the army, so Alan and his siblings had to be evacuated. They were taken to the Central Station in Southampton, along with about 40 other children from the school, and a train took them to Lymington. Alan recalls that they weren't happy where they were billeted and after three months, they were moved to Bournemouth where things were no better and eventually after about a year they were moved to Wilverley Park House in Lyndhurst, which was for children from problem backgrounds. Alan describes what living in Lyndhurst was like at that time and recalls the French soldiers being billeted nearby following the evacuation from Dunkirk.
Alan gained a scholarship to the Itchen Grammar School, which had been evacuated to Andover, so he then had to move there. He recalls the local Home Guard training and watching dogfights over the town. His father was invalided out of the army and settled in Lower Pennington, so in early 1943 he moved back to live with his father, who had joined the Home Guard and also become an ambulance driver. Alan was transferred to Brockenhurst County High School and describes school life and he also joined the Lymington Town Sailing Club, which provided an opportunity to observe the build-up of shipping in the Solent prior to D-Day.
Interview Quick Clips
All material is © 2016 New Forest National Park Authority.
Full transcription of interview recordings.
Download transcription (PDF)
Interviewed by: Helen Wallbridge
Transcription by: Helen Wallbridge
Audio Editor: Cosmic Carrot
Date: 1937