Memories of a child in wartime Blackfield and D-Day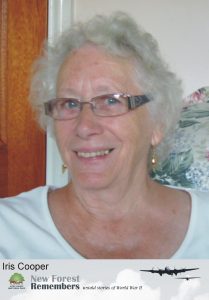 An oral history interview with Iris Cooper.  Interview Date 13/08/13
At the start of the war, Iris Cooper was seven years of age and living in Blackfield. She attended the school in Fawley and remembers well the horrible gas masks they had to take with them and air raid drill and the shelters. She recalls rationing and that her mother used all sorts of materials to make clothes and barter these for extra rations. Iris witnessed bombs dropping and incendiary bombs dropped in their garden. They got on well with the Americans that moved into the area and Iris remembers the preparations for D-Day and when the troops left, the Americans throwing them sweets and money as they passed by. Like all the other kids, they were fascinated by any bombs or aircraft crashes and jumped on their bikes and peddled like mad just to find out what had happened.
Interview Quick Clips:
All material is © 2013 New Forest National Park Authority.
Full transcription of interview recordings.
Download transcription (PDF)
Interviewed by: Dave Larder
Transcription by: John Martin
Checked by: Sue Jackson
Audio Editor: Cosmic Carrot 
Date: 1944