Memories of a baker's daughter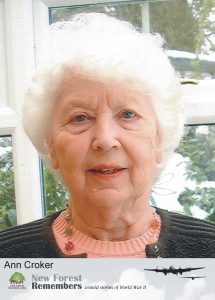 An oral history interview with Mrs Ann Croker.  Interview Date 26/10/12
Ann grew up in Bransgore where her father was the Master baker, owning the bakery and grocery shop (therefore exempt from joining up). Ann tells some wonderful detailed stories of day-to-day life including making lovely Christmases.
Interview Quick Clips
All material is © 2016 New Forest National Park Authority.
Full transcription of interview recordings.
Download transcription (PDF)
Interviewed by: Colin Gibson
Transcription by: Leander Johnson
Checked by: Gareth Owen
Audio Editor: Cosmic Carrot
Date: 1939