Eve and the New Forest Holly Harvest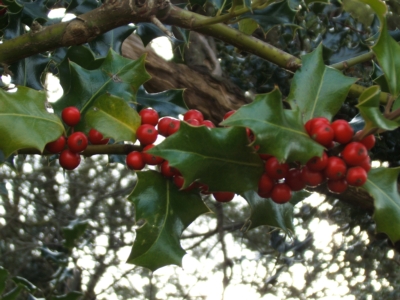 "What a poor old festive season it would be without a touch of holly!" Deep in the New Forest we found the holly harvesters."
Holly harvesting still occurs today, but this early 1919 film from British Pathe shows various shots of girls harvesting holly in the New Forest in Hampshire. They pull down holly trees by hauling on ropes and cut down single branches. They tie the holly into bunches. Finished holly bunches are loaded on to horse and cart with pitchforks. Horse and cart move off through forest with girls walking alongside. Cute end shot of two young children carrying holly bunches walking towards camera. The film is presumably shot around Christmas time 1919.
Eve's Film Review
Eve and Everybody's Film Review was launched in June 1921 as Pathe's cinemagazine aimed at the female audience, a compliment to their already successful, Pathe Pictorial. The series began with a title competition, asking members of the public to suggest a better name for the magazine. However, it seems as though none was forthcoming, as the title remained, often shortened to Eve's Film Review, throughout the cinemagazine's twelve year run. Eve's Film Review was produced by Pathe's Periodicals Department, under the direction of Fred Watts, who described the series in a promotional essay, "Just 'Pic and Eve" in 1928, as 'a most comprehensive and attractive "light" periodical.' It was mostly put together from library footage (which likely explains the date of the Holly Harvest film being 1919; before Eve's Film review was up and running) and the occasional specially shot story.
Eve's Film Review's main content, in keeping with its 'fashion, fun and fancy' slogan was film of women doing interesting and novel jobs and hobbies, fashion displays and novelty items ranging from excerpts of musicals and plays to slow-motion camera studies of nature. The mixture was lively and varied, reflecting art, home, fashion, stage, recreation and cartoons. Cartoons featured prominently in the series.
This content is copyright of British Pathe. You can find out more about British Pathe and their other videos here
Date: 1919