An interview by Clare Bates with Carole Cooper at her home in Fawley on 25th May, 2016
Carole Cooper Part 1 Duration: 4:16
Images: Carole Cooper, copyright reserved. For any rights requests, please contact the New Forest Heritage Centre in the first instance.
CB: This is Clare Bates interviewing Carole Cooper at Fawley on 25th May 2016. Carole have you always been a commoner?
Carole: No I grew up in the Forest amongst commoners and have always ridden ponies and I grew up with Jean Henvest and Buffy were sort of my adopted parents if you like, but I actually started commoning with [name withheld] 25 years ago.
CB: And what's your prefix?
Carole: Ashlett but we also have the Tilery prefix which we have still got and our daughter has the Kingsrew prefix
CB: And is your, your daughters a commoner?
Carole: Yes, she's been a commoner now for I think about ten years in her own right.
CB: And what's her name?
Carole: [name withheld]
CB: And what was your maiden name?
Carole: Trimm.
CB: Let's have a look at this first photo. (CC001) What can you tell me about this photo?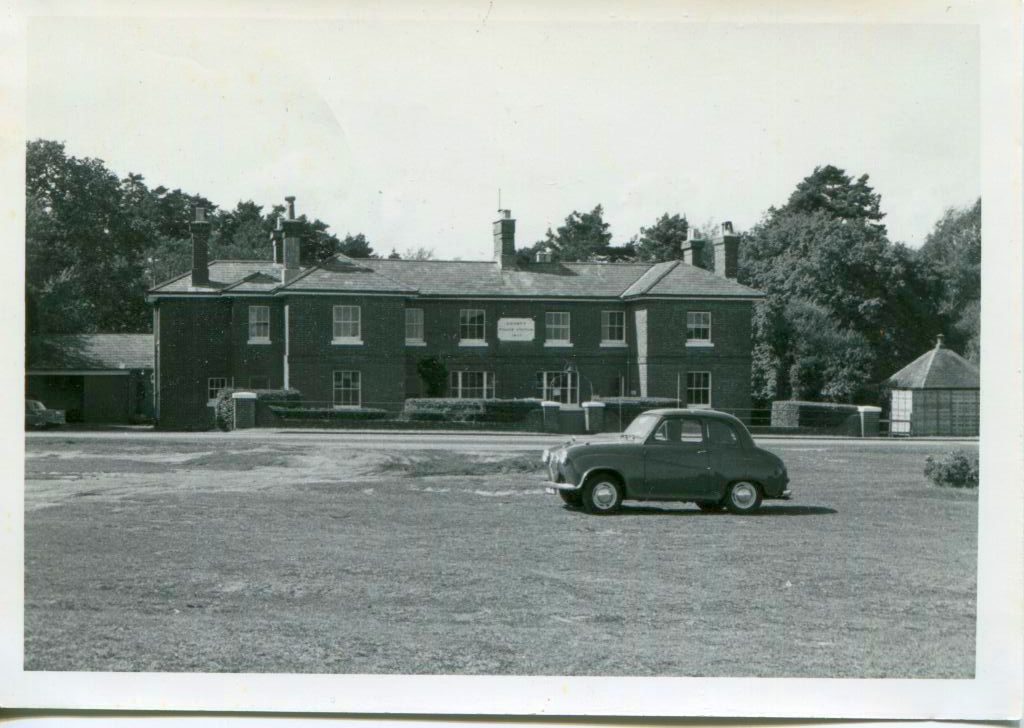 Carole: Well, that is Lyndhurst Police Station as it was then, which is round by the entrance to the golf course which is where we have the pound. And that was the police station and this shows the Forest when it was unfenced, as you can see.
CB: So this where the car is, is the Bench side of the road and that's the A 35.
Carole: That's right and you can see how the cars used to drive onto the Forest wherever they wanted that's just how it was with no fencing at all umm.
CB: And when do you think this may have been taken?
Carole: That would have been about – I'm gonna say sixty-three. It might have been sixty-two; it was one of those two years. And they fenced not long after. I mean, carnage on the roads then, before they fenced.
CB: We can see where they've just driven in off the road.
Carole: Yes, and I can remember a donkey being chopped in half by a motor bike (gasp) just there one day. The carnage on the roads then was because all the main roads, there was nothing fenced was there. I mean, in some ways it was lovely because we used to be able to ride our ponies everywhere. It was nothing to ride from Lyndhurst to Cadnam, it was easy 'cause, but that's how it was, you know, cars and caravans everywhere.
CB: Right now let's have a look at this one. (CC002)
Carole: Oh that's some of us old commoners having a get together; that's [name withheld]
CB: Starting from the right –
Carole: [name withheld], [name withheld], Jean Henvest… Gwen…. oh, I can't remember her surname. No. It's Gwen. Can't remember her sur-, Brian Thorne and Dorita Tillyer and I think that, I'm almost sure that's at the New Forest Inn at Emery Down.
CB: And what was the meal in aid of?
Carole: It looks like Christmas doesn't it?
CB: It does.
Carole: But we used to – in those days, the Commoners Defence used to have an annual dinner dance at the Lyndhurst Park Hotel. We all used to go as a gang; we were like a little gang then, in those days. We used to get together through our ponies and do everything and help each other, and obviously we had a Christmas meal together.
CB: And have you any idea when that might have been, what year?
Carole: That would have been right back in the beginning, so go back about twenty-three years: what date, what year would that be? If we come forward: eighty-nine, ninety; I would say about nineteen-ninety-one. Nothing on the back is there? I would say that would be about ninety-one.
CB: Okay, the third photograph. (CC003)
Carole: Well that's Beat Cook.
CB: My grandmother.
Carole: And Shelia Napthine, [name withheld] mother and that's at Lyndhurst racecourse drift, which is by the under pass and that's the portable pound as it was then.
CB: When it was wooden?
Carole:  Yes, and they were just watching the ponies come in and we hadn't put the pound up yet; we just used to hold them in and then put the pound up  I can't tell you the date. Pat is waving her hand in the air. (Pat Dunning was helping with scanning)