Southampton Car Club Cockley Hillclimb 1947
A few years back, as editor of the Southsea Motor Club bulletin, one of my Club colleagues brought to my attention a results sheet from a 1947 motoring event held at Cockley Hill, Southampton. My colleague being unaware of a Cockley Hill climb wondered what I might know about it; my immediate reaction was "nothing at all'. However I was sufficiently intrigued to investigate further, because several Southsea Motor Club members competed in the event & because I could not envisage a suitable venue near Southampton. A further spur was that I had tried to join Southampton Car Club but finding it almost defunct & joined Southsea M C instead.
A Google search located a Cockley Hill not in Southampton but on the north-west edge of the New Forest. A check of the relevant OS map showed a track running between the B3078 and Cockley Hill. So one Sunday I took a trip out to find Cockley Hill, and there, sure enough, approaching Godshill from Southampton, a rough track comes prominently into view off to the left. Convenient parking gave access onto a downhill track gave onto the one leading upwards to the top of Cockley Hill.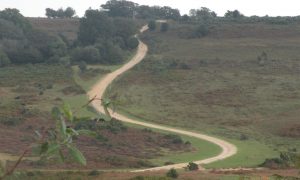 At bottom of the dip was a small water course, Ditchend Brook, surrounded by a greensward. In the imagination it was easy to envisage, over 70 years ago on a warm summer's day, cars milling about in what was undoubtedly the starting area. Having identified a starting paddock, it was obvious that the existing track follows the line of the hill-climb. Walking up led to another open, flat meadow alongside Cockley Bushes, which surely was the finishing paddock. Paddocks top & bottom seem quite adequate for the 30-40 cars for competitors & marshals especially as two years post the Second World War I doubt there would have been many supporters cars.
From the OS map, the track was about 1/4 mile long with an ascent of about 120 feet.
As to the track itself, it is now a loose pebbly surface, firm but bumpy with some loose rocks & broken concrete; I would be very chary of taking my Lotus 7 up except at walking speed. Closer inspection revealed a significant concrete sub-base of now seriously degraded concrete, indicative of a one time military road. That this is the case is borne out by Google information which notes that there was much military use of the area in the 40s.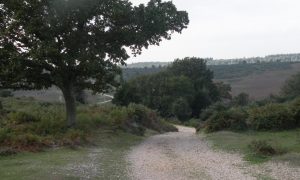 Based on best average time for the 3 runs, L. Onslow-Bartlett squeezed home by 1/5th of a second in his fearsome 3.9ltr Mercury. However, T. L. Allard (brother of the famous Sidney Allard) claimed (on his second run) FTD (fastest time of the day) for an individual run again by the narrowest of margins of 1/5th of a second (see Results Page).
As to Southsea MC members E. L. Fry won the combined Class 2's in a BMW and a 1250cc MG driven by L. Leonard was 2nd in class 1C.
Other Club members competing were R. W. Jacobs, S. Desmond & G. E. Matthews and classified as non-starter was G. V. Coles. Two other intriguing characters, sailing as it were under false colours, were C. Dewey & R. W. Faulkner representing Southampton Car Club. Interesting because Ron Faulkner was father of our current president & a member of Southsea MC at the time; so too was Colin Dewey, believed to be our Club's president in 1947. Both were driving Willys Jeeps possibly with their 4-wheel drive disconnected to make them eligible for trials events; on the track today the all-wheel drive would be hugely beneficial.
The scoring system seems to have involved totalling times for individual runs & then averaging them. Over the years this changed to the current system of results based on competitors fastest (non-practice) run only. Timing almost certainly by hand-held stop watches recording to the nearest 1/5 second.
Prior to seeing photographs of the event, I speculated on the differences between competitors now & then. Would they wear crash helmets? a few perhaps. Seat belts? Never heard of them! What about fire-resistant suits? Highly unlikely; even 15 years later competing in a Lotus 7, I used to drive in a Gannex jacket on cold days & shirt sleeves on hot ones. Nowadays all these items & more are mandatory for competitors.
From the photographs it seems drivers were free to wear whatever they wanted.
Whatever, drivers & spectators appear to be thoroughly enjoying themselves!
Chris Davis 18 November 2020. My thanks to the Guy Griffiths Collection.
Date: 1947