Soldier's Letter – No. 1 New Zealand General Hospital, Brockenhurst. May 1917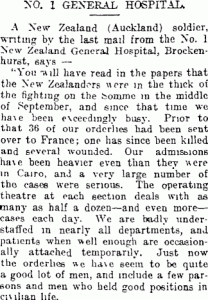 Published in the: Auckland Star, Volume XLVIII, Issue 126, 28 May 1917
SOLDIER'S LETTER.
No.1 GENERAL HOSPITAL. A New Zealand (Auckland) soldier, writing by the last mail from the No. 1 New Zealand General Hospital, Brockenhurst, says: –
"You will have read in the papers that the New Zealanders were in the thick of the fighting on the Somme in the middle of September, and since that time we have been exceedingly busy. Prior to that 36 of our orderlies had been sent over to France; one has since been killed and several wounded. Our admissions have been heavier even than they were in Cairo, and a very large number of the cases were serious. The operating theatre at each section deals with as many as half a dozen —and even more— cases each day. We are badly understaffed in nearly all departments, and patients -when well enough are occasionally attached temporarily. Just now the orderlies we have seem to be quite a good lot of men, and include a few parsons and men who held good positions in civilian life.
"The hospital here is divided into three sections. The first is headquarters, which used to be occupied by the Lady Hardinge Hospital for wounded Indians. Here over 600 patients are accommodated. It is built of hutments, and it is possible to reach all parts without going out of doors. There is additional accommodation for the staff and for stores. This section is known as "Tin Town," and its occupants as "Tin Hats."
"The other two sections are hotels, one at either end of the village of Brockenhurst, and on the edge of the New Forest. Each accommodates between 200 and 300 patients. Both are very fine buildings, and are as well equipped in every way as the central section.
"Besides these three, there are five auxiliary hospitals, each taking from 20 to 60 patients. They are sent there as soon as they are well enough to require light dressings. The names of these five are: Morant War Hospital, at Brockenhurst; 'Home Mead,' at Lymington; 'Hill House,' at Lyndhurst; 'Thorney Hill,' at Branagore; and Lady Normanton's, at Bingwood. "There has recently been added a convalescent home for officers at "Avon Tyrrell," Lady Manners' House. At all of these places New Zealanders receive the best of attention, and all those mentioned are within a radius of fifteen mile, from Brockenhurst. New Zealanders receive a warm reception almost anywhere in England, and Scotland is remarkably hospitable. Many of the patients are given furlough before returning to the front."
The writer states that he has gone into some detail because, judging from the New Zealand papers, the activities of this – easily the largest New Zealand hospital – seems to be known hardly at all.
'"Of course," he continues, "the whole of the staff are New Zealanders. Lieut. Colonel Wylie is O.C. there in place of Colonel Parkes, nod D.D.M.S."
Source – National Library of New Zealand
Fairfax Media is the copyright owner for the Auckland Star
You can find out more about the activities, sites and stories associated with the hospital by clicking here: No.1 New Zealand General Hospital
Date: 1917