Richard (Dick) Galton, 29th February 1924 – 29th February 2012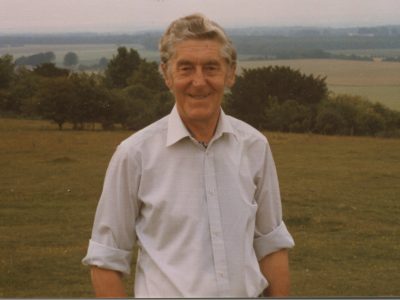 Christopher Tower New Forest Reference Library volunteer, Liz Galton, shares an article about her late husband, Lyndhurst resident, Dick Galton…
Dick was born in Lyndhurst and apart from his five years' army service during the war, lived here for the whole of his life.  He was Head Choirboy at St. Michael & All Angel's Church and Head Boy at Lyndhurst School.  At 14 he won a scholarship to Greggs School, then based in Grosvenor Square in Southampton, where he learnt the commercial skills that were to prove useful in later life.
On leaving school, Dick joined the New Forest Rural Council as a trainee Sanitary Inspector.  In those early days before the war, a visit to somewhere as remote as Calshot with his boss meant taking sandwiches and a whole day out.  Dick retained vivid memories of those early years when, as he said, everyone in Lyndhurst knew everyone else.
Dick spent much of the war being posted around England with the Royal Militia Island of Jersey, before being sent out to Rome with MI9 for 18 months in early
1946, ironically, just a few months after he had married Doris.
On his return from the army, Dick returned to his old department, now renamed Environmental Health, and qualified as an Environmental Health Officer, also as a Meat Inspector which entailed inspecting the numerous small local abattoirs.
He spent 10 years working on the Hobhouse Survey, a government scheme which entailed inspecting every house under a certain rateable value in the NFRC area, giving him an in depth knowledge of the New Forest and surrounding area.
Dick, Doris and daughter Pauline, had spent several years living in shared accommodation in the village before moving to a new house in Beechen Lane, where he remained for the rest of his life.
Always participating in village activities, Dick was also a keen sportsman & during the 1950s captained the Lyndhurst Cricket Club 2nd eleven on Saturdays and played for the first team on Sundays.  Vic Loveless used Dick's history of Lyndhurst Cricket Club in his book on the New Forest and its Cricketers.  During the early 1960s cricket gave way to golf; he played at Lyndhurst where he achieved a single-figure handicap and was Captain for a year, later joining Brockenhurst Manor Golf Club.
Following Government reorganisation in 1974 Dick became a Senior Housing Officer, taking early retirement in 1981.
Sadly, Doris died in 1979 but shortly afterwards Dick met Liz through their mutual love of bird-watching and they married in 1982.  Pauline spent much of her life living and working in Lyndhurst and his grandson still lives and works in the village.  Uniquely, all three generations were born at the Fenwick Hospital; Dick helped in the campaign to keep it remaining open as a local facility.
Dick did voluntary work throughout his long retirement, with Lyndhurst Community Centre, a few years as secretary of the Hampshire Alliance of Amateur and Professional Golfers and for several years compiled the statistics for Totton CAB.
He was Chairman of Lyndhurst Historical Society for many years, served 3 terms on Lyndurst Parish Council and in later years became a volunteer in the Christopher Tower Reference Library at the New Forest Centre.  He also became an active member of Lyndhurst Church.
Unfortunately, ill-health forced Dick to give up most of his activities a year before his death on his 88th birthday – which was leap year day.
As he was fond of saying – "when you've lived in the forest all your life, your roots go down a long way".
Date: 1924