Memories of barrage balloons and RAF Beaulieu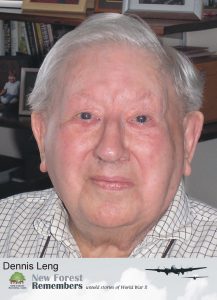 An oral history interview with Dennis Leng. Interview Date 08/06/13
Dennis Leng joined the RAF in 1936, initially being trained as a wireless operator at RAF Wyton before being transferred to RAF Cardington to train as a barrage balloon operator, which was his occupation during the war. He was stationed briefly at Beaulieu airfield prior to being demobbed in December 1945. He does not remember much about his time at the airbase.
Initially in 1939 he was posted to 924 Squadron who were responsible for setting up barrage balloons around Manchester. Early in 1940 the squadron were posted to Le Havre in France to support the defences there. On evacuation they were re-equipped and posted to Southampton. Dennis describes the construction of a barrage balloon and its deployment, and also their operations in the Southampton area. He witnessed a couple of aircraft crashes in the West End area. He also got married during the war and they used parachute material for dresses and shirts. On leaving the RAF he became a teacher and eventually taught retarded children.
Interview Quick Clips:
All material is ©2017 New Forest National Park Authority.
Full transcription of interview recordings:
Download transcription (PDF)
Interviewed by: Sue Jackson
Transcription by: John Martin
Checked by: Sue Jackson
Audio Editor: Cosmic Carrot
For further reading and articles on Beaulieu Airfield please visit: Beaulieu Airfield Overview
Date: 1944