Lyndhurst Training Areas – Overview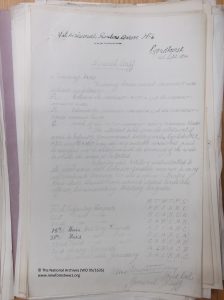 By September 1914 three training areas had been established around the village of Lyndhurst.  Other than naming the boundary roads of their locations little is known of their full extent.
Within area "A" are the remains of the Southern Command School of Bombing and practice trenches. It is understood that these are part of the "Whitemoor Range" or connected with the Southern Command School of Bombing, Lyndhurst.
Transcription of WO 95/1635 (17)
7th Division Routine Orders No.6 – 12 Sept 1914
Lyndhurst 12 Sept 1914
General Staff
1.Training Areas
Training Areas around Lyndhurst are lettered as follows:-
A. Between the Lyndhurst-Totton and the Lyndhurst-Lymington Roads.
B. Between the Lyndhurst-Lymington and the Lyndhurst-Burley-Ringwood Roads
C. North of the Totton-Lyndhurst-Burley-Ringwood Roads
The attached table gives the allotment of areas to Infantry, Yeomanry and Artillery units. Cyclists*, RE., A.S.C. and RAMC may use any suitable area but must be careful not to interfere with the training of the units to which the area is allotted.
Infantry and Artillery units allotted to the same area will, whenever possible, arrange to carry out combined training. For this purpose Infantry Brigadiers should communicate direct with the Officers Commanding Artillery Brigades.
| | | | | | | |
| --- | --- | --- | --- | --- | --- | --- |
| Units | M | T | W | T | F | S |
| 20th Infantry Brigade | A | B | C | A | B | C |
| 21st Infantry Brigade | B | C | A | B | C | A |
| 22nd Infantry Brigade | C | A | B | C | A | B |
| 14th Horse* Artillery Brigade | A | B | C | A | B | C |
| 35th Field* Artillery Brigade | B | C | A | B | C | A |
| 22nd Field Artillery Brigade | C | A | B | C | A | B |
| 3rd Heavy Brigade | A | C | B | A | C | B |
| Northumberland Yeomanry | B | A | C | B | A | C |
xxxx Montgomery
Lieut Col
General Staff
Transcription Notes:
*  =   Best interpretation made
xxxx  =  Un-readable
Date: 1914