Lymington photographer – postcard – Indian and Gurkha troops on parade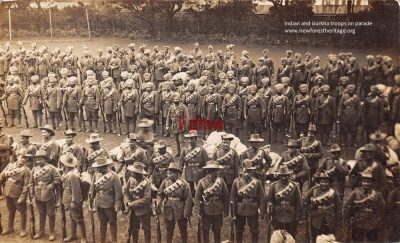 This postcard was recently sold on eBay that shows Indian and possibly Gurkha troops on parade. There is no written text on the image to indicate where the photo was taken. The only clue is the publisher/photographer of the postcard "Cecil Elgar photo Lymington" whose stamp is embossed in the bottom right corner.
Our best guesses for where this photo was taken (if taken in the New Forest at all) would be:
Ashurst near the Hospital – there was an Indian camp on the site of the modern day camp site near the station. And Brockenhurst near the Indian Hospital now the Tile Barn Centre.
If you have any suggestions as to the location of this image do add a comment below.
Date: 1914