Herbert Druitt (1876 -1943) Letter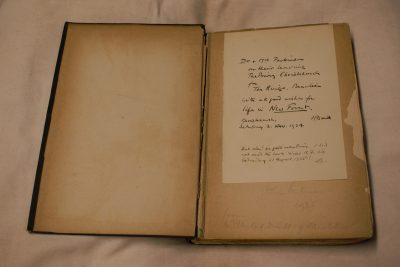 The New Forest Heritage Centre has recently received a relatively ordinary copy of Wise's New Forest; however inside the front cover is a historical gem. Attached to the front page is a letter to:
Mr and Mrs Parkinson on their leaving The Priory Christchurch for The Rings, Beaulieu. With all good wishes for life in the New Forest. Christchurch,  H.D. Druitt. Saturday 3 Nov. 1934. But alas! For good intentions, I did not send the book Wise's N.F. till Wednesday 21 August 1935! HD.
The book has been catalogued as part of the Christopher Tower Library's Special Collection and the record can be viewed here.
'By the time of his death, Herbert Druitt had amassed one of the biggest private collections in the south of England. He gathered together flint implements, pottery, fossils, shells, coins, birds' eggs, prints, watercolours, books, pamphlets and many other objects of local and historical interest and this material eventually formed the basis of The Red House Museum in Christchurch, which opened its doors to the public in 1951.'
Want to find out more about Herbert Druitt, the collector? Read the full article from our colleagues at Hampshire Cultural Trust.
Date: 3rd November 1934