Film Clip – Beaulieu Airfield – D-Day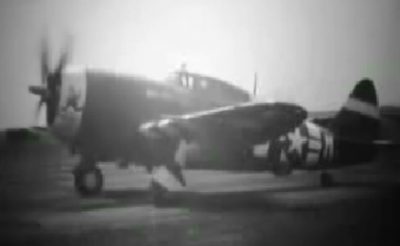 Video clip was originally found on a French website possibly because of the place name. In reality it shows 365 USAAF Group HELL HAWKS taking off on or around D-Day from Beaulieu in the New Forest. There were originally two separate films of outtake clips which were reedited to make a more coherent documentary style account. It is the only film available showing the actual operation of the airfield. American representatives of the Hell Hawks were contacted.
For further reading and articles on Beaulieu Airfield please visit: Beaulieu Airfield Overview
Beaulieu Airfield (Hampshire) USAAF Station AAF 408 365th Group 'Thunderbolts' D-Day 1944
In his book 'Hampshire Airfields in the Second World War' Robin J. Brooks says about the 365 Fighter Group, 'This unit operated from the first light of dawn to the last ray of sun in an effort to wear down the enemy before the Allied invasion in June 1944. One week after the invasion, they had gone'. Therefore there is scant record of their contribution on D-Day except for this film clip.
Original article uploaded by: Kingsley (Kip) Miller
Here are the YouTube videos (DDay-Overlord channel) with original/additional footage.
365th Fighter Group – Beaulieu – UK – 08/06/1944 – DDay-Overlord
365th Fighter Group – Beaulieu – 06/1944 – DDay-Overlord
Date: 1944