Captain Norman Henry Prior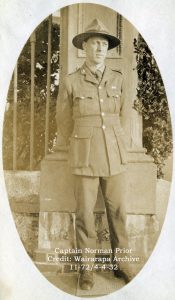 1882 – 1967
Born in Adelaide, Australia in 1882.
He arrived in New Zealand 1893.
Studied medicine at Otago Univerity and Edinburgh University and practised in the United Kingdom for four years.
He returned to New Zealand in 1909 and established himself as a General Practitioner in Masterton.
Married Elizabeth Teague in 1913 who died on 22 December 1914 soon after giving birth to their son Arthur.
He served in World War One, regimental number 3/1243. Seeing action at Gallipoli briefly in Dec 1915 and from June 1916 became a Medical Officer for 1st Otago Battalion in France.
Billeted at Seninghem in Sep 1917 and posted to Brockenhurst Hospital Dec 1917, was there for a year.
Received the Military Cross in 1916 for rescuing wounded from the Front.
Returned to New Zealand in 1919, resumed his medical practice and continued his involvement in a number of community organisations.
Remarried in 1920, to Jessie Miller.
Father of Arthur Norman (first marriage), Elaine, Ian and Owen (second marriage).
You can see a selection of photos taken by Captain Prior during his travels and time in Brockenhurst by clicking here.
You can find out more about the activities, sites and stories associated with the hospital by clicking here: No.1 New Zealand General Hospital
Date: 1917